Travelers arriving to Kaua'i are required to get a valid COVID-19 test prior to their arrival, and to show proof of a negative test result, to avoid the 14-day quarantine. In addition to the pre-travel test, we ask that travelers arriving to Kaua'i please Rest, Test, Enjoy!
REST for 3 Days:  Wear a mask, physically distance, wash your hands and avoid community contact.
TEST:  Please protect our community and take a voluntary follow-up test 3 days after your arrival.
ENJOY!  With a negative follow-up test result, please enjoy the beauty of Kaua'i. 
Mahalo for keeping Kaua'i safe!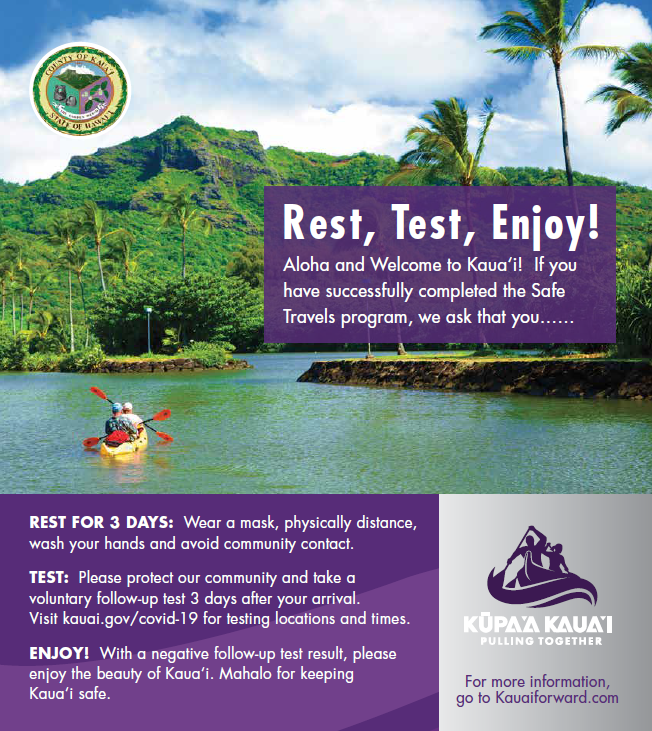 Testing Details for Visitors: Please protect our community and take a voluntary follow-up test 3 days after your arrival. Beginning Monday, October 19, American Medical Response will be accepting walk-ins for visitor post-arrival testing.
Hours of Operation: 

Monday-Friday, 8:00 a.m. – 12:00 p.m.
Walk-ins welcomed, online scheduling to be announced.
Businesses – please email kauaicovtest@gmail.com to set up site testing.
 

Location:

3170-A Jerves Street
Lihue, HI 96766
Enter through Poinciana Street and park in the grass lot.
Remain in your vehicle and someone will provide further direction
The cost of the test will be at the visitor's expense, but visitors will receive local gift cards and vouchers as a thank you for their participation. For questions about testing, contact AMR at kauaicovtest@gmail.com.
Testing Details for Residents: The County of Kaua'i will be providing free post-arrival COVID-19 tests for Kaua'i residents who travel out of state and receive a quarantine exemption via the state's Safe Travels pre-testing program.
The free post-arrival testing center for Kaua'i residents returning from out-of-state travel launches on Monday, Oct. 19, 2020, at the Kaua'i War Memorial Convention Hall. Testing will be available Monday through Friday from 8 a.m. to 3 p.m., and Saturdays from 8 a.m. to noon. Closed Sundays.
Eligibility: To qualify for a free COVID-19 test, a returning resident must have participated in the state's pre-travel testing program. Additionally, they must provide paper or electronic proof of an out-of-state boarding pass/trip confirmation along with a Hawaii ID. The resident must have been back on Kaua'i for at least 72 hours prior to seeking testing at the free Post-Travel Testing site. Post-arrival testing is not available for interisland travelers at this time.
The post-arrival test offered by the County of Kaua'i is a rapid point of care PCR test that looks for active infection. Participants will receive their results on the same day.
Last modified: October 16, 2020