Aloha Kauai Agriculturalists,
The North Shore Economic Vitality Partnership's (NSEVP) GroupGAP cohort 6 recruitment ends in just a few days! This is a reminder to any vegetable producers to contact NSEVP and/or submit an application by Sunday, February 6, if you are interested in working towards USDA Harmonized-GAP certification through the GroupGAP program. You may find the pdf application HERE. 
GroupGAP is a new USDA food safety certification option that will increase opportunities for smaller farms to supply GAP-certified produce. This robust certification process addresses many challenges that small farms face in complying with food safety audits and meeting the demands of the retail, food service, and institutional buying community. GroupGAP makes food safety certification accessible for small and middle-sized producers by allowing farmers, food hubs, and other marketing organizations to work together to undergo GAP certification as a group. The program will build a network of farms that share safety, quality standards, and training with the goals of accessing new markets, diversifying revenue streams, and increasing production and profitability. 
GroupGAP cohort is especially beneficial to smaller farms looking to:
Expand their farm production but don't know where to start.
Are interested in becoming Food Safety Certified.
Are preparing for FSMA compliance.
Looking to access new markets and increase sales. 
 Farms must complete and submit the application to NSEVP's Lisa Rhoden or Francesca Scola.
 Lisa Rhoden, Food Safety Director | P: 808-343-8196 | lisa@nsevp.org
Francesca Scola, Food Safety Specialist | P: 808-868-6805 | fscola@nsevp.org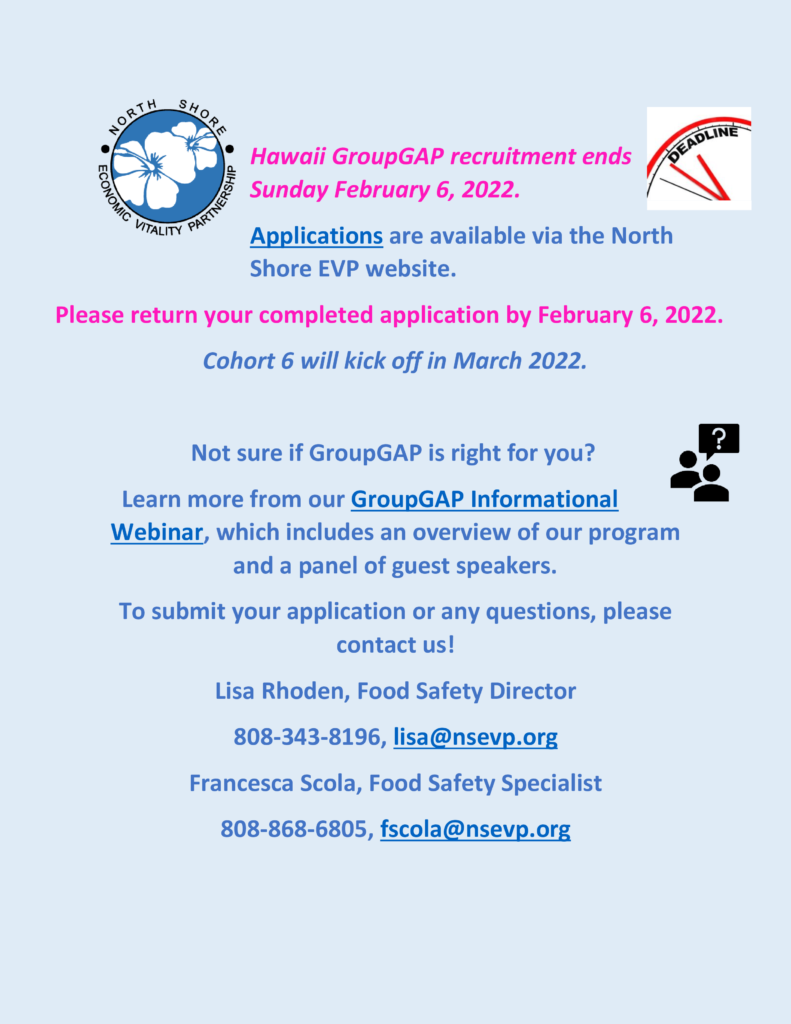 Last modified: February 3, 2022