Story – Foto4Food
How Foto4Food.org was created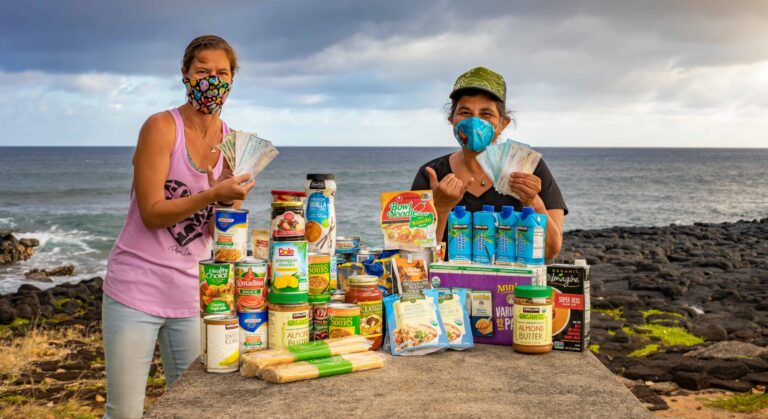 I (Jo Evans) had a childhood friend who lost her 6-year battle to ovarian cancer on April 14, 2020. Prior to her passing back in January, she and I were planning to travel at the end of March. When she texted me March 5th and told me that she was having a hard time moving around and couldn't travel, I knew I needed to try and see her soon. She has been the strongest and most amazing person I knew in her fight, and I was hoping to just spend some time with her at home.
Then the COVID-19 pandemic came into full swing. Quarantine, curfew, etc. which meant I would not be able to travel. Not only did I not want to compromise my friend's safety or her family, I didn't want to risk bringing a case to the island myself… So, I canceled my plans.
Feeling helpless and not being able to visit my friend before her passing, I started to think that I needed to do something in a positive way but wasn't sure what that would be just yet.
At the end of March, I saw a news piece of a woman that had started taking porch portraits of families using social distancing, and in turn, she asked her participants to donate to the Boys and Girls Club. She was unfortunately shut down due to the stay at home order. I thought, hmm I am a photographer (Da Kine Images LLC) and I have the equipment to do something similar here on Kauai. This was the positive thing I needed to pursue.
I started remembering how things were after hurricane Inki, food being the number one need. I recalled how wonderful people were in that time, neighbors sharing whatever they had with Aloha! It was pretty incredible. So many wonderful giving stories in such a time of need.
Knowing our island will be in need of food across so many levels in our community my first consideration was to have the Kauai Independent Food Bank be the recipient of any donations and remain open to other community non-profits as we went along.
This prompted me to think up ideas for a name for this concept so that I could make a brand for a similar idea that was done on the mainland. On April 4th the foto4food.org web site was born and secured.
I thought about my friend Julie Gardner who is a joy to be around and has an extensive business and marketing background. She has also spent some time behind a camera and was searching for a way to help in this time of need. I knew we would be an excellent team. By Mid-April I emailed Julie what I had written up as a business plan, told her that I would be so stoked if she would share the founding of the idea of foto4food.org and without hesitation, she was 100% in. We immediately started bouncing ideas and working hard on getting things in order.
Our first priority was to get approval from the mayor's offices. Out of respect for all their hard work making difficult decisions to keep us safe, we didn't want to be in violation of any orders. While waiting for a response, we secured Instagram and Facebook accounts and started building out our website. We reached out to our incredibly talented friend and artist Seth Womble for help with our logo. After a week with no response from the mayor and knowing they had to be insanely swamped, Julie read through the emergency proclamations and found a clause stating that volunteers helping the community could be considered "essential".
We proceeded with a "soft-launch" calling on friends and family members to participate in hopes to get them to post on their social media and did our first shoot on April 26th. Our first official drop to the Kauai Independent Food Bank was on Friday, May 1st where we got to meet Kelvin Moniz. His passion was contagious, and we knew we had picked the right cause to support! We continue to drop off donations every Friday, and June 19th will be our 8th week.
At first we had planned to divide and conquer with our cameras, but after doing our first few together, our flow has been such that we have been able to continue to show up as a team so we can both meet all the incredible families choosing to participate. We have so enjoyed learning how people have spent their time at home, the projects they've been working on, and the family time they've shared. Our first few weeks were especially inspiring as most hadn't had any face to face communication with others, and nor had we! It was amazing to catch up with our friends (from a distance of course) and now making new ones.
While the original idea was outdoor portraits (at their front door or in the yard), now that the beaches are open some are opting for us to meet them near the ocean. We are happy to accommodate and love mixing things up and being creative. We try to group our scheduling for locations so we can maximize our time and minimize our fuel costs.
All have been so much fun thus far, as we have loved the outpouring of love and Aloha for Kauai from our participants. A few of our donations have even come from friends on the mainland just wanting to help! To date, we've shot over 80 families, raised over $7,000, and 1,000 pounds of food!
Things are catching on with social media, but it will always be a work in progress. Most of our referrals at this point are friends of the friends who already participated. We know there is going to be a need for a long time so we are happy to do this as long as we can and so long as people are wanting to participate! We welcome anyone that would like to participate to please do so via our website foto4food.org/schedule-your-foto and we get back to you promptly.
We have been loving the nice write-ups about us on social media, and Dennis Fujimoto featured us in The Garden Island May 16th and mentioned Foto4Food again on May 17th.
The positive feedback and generosity are what keeps us going! It really drives us to do more and do better. Some have tipped cash on top of their donation, and we usually include it with the donations! We've also been tipped with an avocado tree, fruit, puakenikeni tree which is amazing! We feel so blessed to be part of such a beautiful community coming together in these unprecedented times.
Do you know an individual, business or group who has demonstrated extraordinary aloha during these trying times?
Share your stories of resilience and
hope through this online form...