Story – Dennis Fujimoto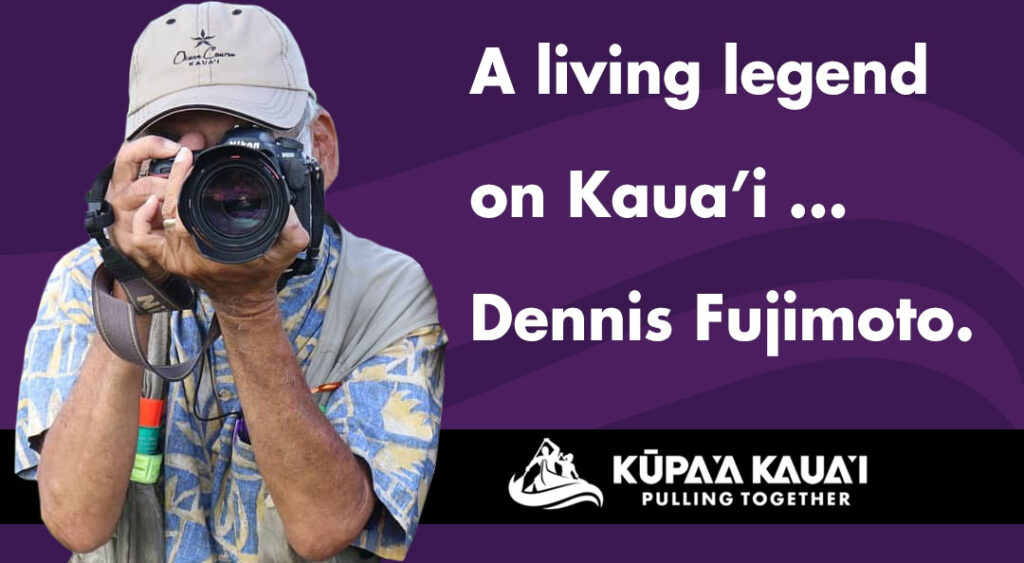 You quickly recognize him with his iconic tan photographer vest and hat pointing a camera at you. Behind that camera is a contagious smile, known to many as the "Happy Camper."
Dennis Fujimoto, the Garden Island Newspaper's photojournalist, was nominated by a Kūpa'a Kaua'i follower as someone who represents Kupaa and its core values of Aloha, Pono, Kokua, Ohana, and Unity.
We agree, and so does Chantal Zarbaugh of Kaua'i Lifeguard Association, "Dennis is a man of all those values …he is full of Aloha and Pono because he lives with integrity. Kokua because he is always willing sharing good deeds being done for others. Ohana – because he cares about community and shows up for others, like ohana does! Unity – he keeps us all updated with his Happy Camper or TGI articles, this man can be found island-wide sharing smiles, pictures and stories for all to read and see!"
Dennis Fujimoto has had such a profound impact on everyone on this island that in 2012, Mayor Bernard Carvalho proclaimed July 27 to be Dennis Fujimoto Day. "Whereas some of Dennis' attributes includes his compassion and resourcefulness as a member of the community and how he portrays and touches the community in such a 'pono' way through his professional role in the newspaper," the County of Kaua'i Proclamation states. 
Former Mayor Carvalho described Dennis as "dedicated, community minded, big smile and totally connected in all parts of our community, that's Dennis Fujimoto. He's very involved in all kinds of projects, whether they be sporting events, community events, controversial kind of events, he always has a presence of connecting with people."
Dennis has been capturing moments with his camera for a long time on Kauai. "I started back when I was in the fifth grade. I was offered $5 to go out and photograph Pop Warner football. I discovered I can do something that I liked to do, instead of working in the pineapple fields, and get paid for it," Dennis recalled. "And I've been doing it ever since. Pop Warner football is still here and I'm still here."
Ron Wiley of Kong Radio recalls when he first moved to Kauai, "Dennis is one of the first I met when I came to Kaua'i back in 1989. He took a photo of 'Ron Wiley from Oahu' on his motorcycle. From behind his camera he said, 'this is gonna be awesome.' He's been saying that all these years. His photographs are awesome but so is the 'Happy Camper' …awesome."
Dennis started his "Happy Camper" column with photo collages several years ago and it has grown to have international appeal. He explained the idea behind the column.  "You gotta have lighthearted news. I cover a bunch of different events and sometimes it's not the event you need to cover as much of it is the story behind the event. It's about lightheartedness as well as serious matters and I pride myself in being able to say I can do both."
Dennis has been recognized for his contributions to the Kauai community through several organizations. Just to name a few, the President's Award for Lee Spirit (also known as the Spirit of Kauai), the Kauai Chamber Mea Ho'omana'o Award (Aloha Spirit Award), Honorary Rotary Member, and many more.
Of course, Dennis in his usual humble demeanor, says, "It's nice to be appreciated, but we get appreciated every day when the people read our stories."
Kauai Police Department knows how special Dennis is, "Unko Dennis Fujimoto is a friend of KPD. He is an island treasure and it goes without saying that we must protect him at all costs. Thanks for everything you do for the community Dennis."
Dennis's smile and warmth helps those with whom he meets to transform words and photos to create stories about our community. And he is everywhere in this community. He is known to drive from Princeville to Kekaha in the same morning, back to Kapaa/Wailua before returning to Lihue to finalize his articles and photos for the next morning's edition. Dennis efforts have brought forward a positive campaign of public awareness, inspiration, and optimism. Countless Garden Island residents have been touched by his extraordinary unconditional personal effort to uplift our community members through his highly respected news article and stunning photos that reflect island life. All his projects have been completed with compassion and aloha. Two qualities that can be lost in today's world of virtual and instant media.
During this pandemic Dennis hasn't had the chance to cover the usual sporting events or parades but has been busy capturing the kūpa'a moments around the island. He has been impressed with how resilient and positive people have been during this time.
"Positive is the way to go; people need to shed their tainted attitudes and approach events, big or small, with a sense of moving forward rather than resentment, frustration, and I'd rather be somewhere else, but here — Positive is the 'aloha' people talk about." He explained. "We need everyone's aloha to get past this. You need help? How can I help? Some of more immediate examples are the Pop Warner football kids delivering kupuna boxes in the neighborhood; Japanese Grandma (Keiko Napier) almost single-handedly trying to feed as many people as humanly possible; the resort employers who make an effort at helping their work force with food, and the list goes on from the farmer who puts in an extra papaya because he's so grateful, to the restaurant owner who adds a little more so the food won't go to waste…Kaua'i is Kupa'a because we all are."
This pandemic hasn't slowed him down. You will still see Dennis driving his small little Honda from one side of the island to the other trying to cover the latest happenings on Kauai. He's motivated by trying to do his part as he has for so many years, "I'm not going, anywhere. I can't do much, but hopefully, the little that I can do will make this place a little better than if I did nothing," said Dennis.
As the "Happy Camper" he looks for the positive in everything, "Everyone is trying. There might be some frustrations, some steps backward at times, but every person here is trying to do their part in getting Kaua'i past this pandemic." He closes with this message to the community, "We're Kaua'i Strong! Our little piece helps to make the pie that much tastier…wear a mask, avoid the unnecessary crowds, and take care of each other…we all count!"
Mahalo Dennis Fujimoto!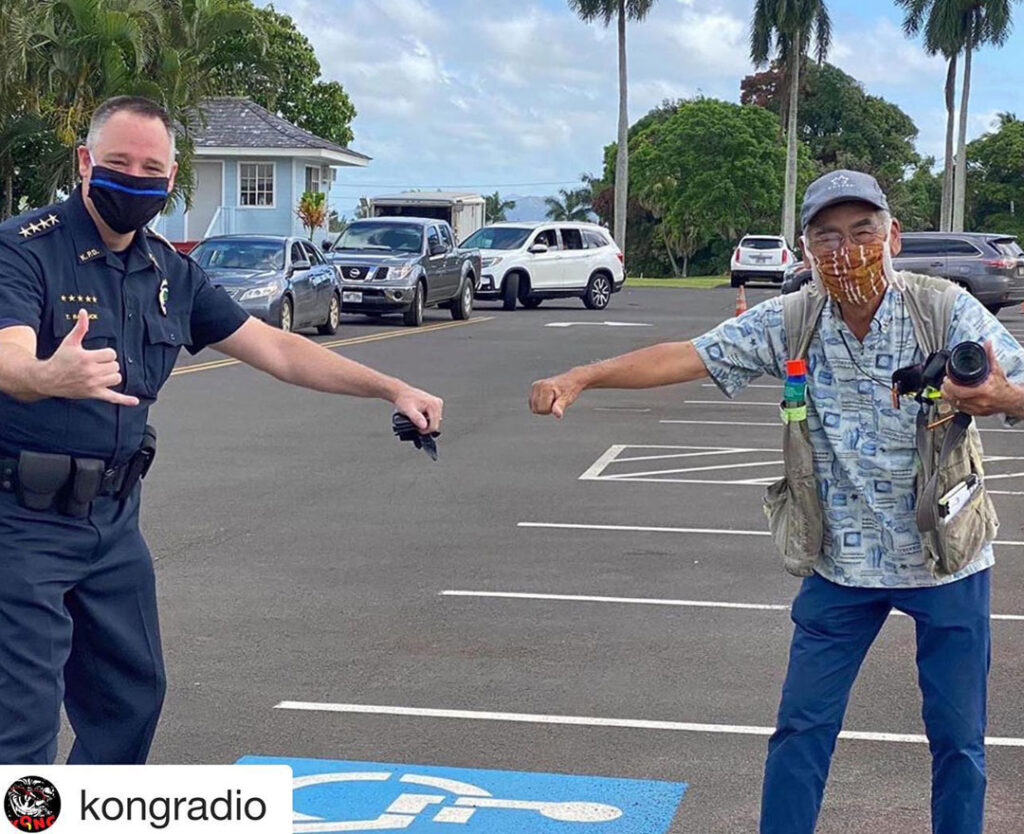 Contributions to this story and photos through direct messaging or FB accounts from Ron Wiley, Kauai Chamber, Chantal Zarbaugh, Mel Rapozo, KPD, Mryvie Buster, "Liz Kauai", CKTV video story, Bernard Carvalho, The Garden Island Newspaper, and Dennis Fujimoto himself.
*Most of these photos were taken pre-Covid-19, thus no face masks.