Malama Kauai's FEED Orchard Grants are intended to increase fruit production to fill market gaps and increase local fruit made available to food access programs. The FEED Orchard Grant Package includes:
$1,500 in mature food trees of your choice to install on your farm (must have low WRA score)
$500 for orchard expansion supplies: compost, mulch, irrigation, and/or orchard maintenance tools (including pest prevention, such as bird netting, fruit fly traps, etc.)
2 seats for farm staff for a 2-day Orchard Management Workshop with Ken Love of Hawai'i Tropical Fruit Growers Association on August 20th & 21st
To be eligible for the grant, Kauai based farmers must be established operations with current food production/sales and engagement with food access related sales channels at the time of application—with commitment to continue. Food access channels include Malama Kauai's KauaiLocalFood.com and other DA BUX sites and food banks/pantries.
Farmers must also have site control and approval of improvements to ensure the life of the orchards, as evidenced by a signed lease (with a minimum of 5 years remaining) or land ownership documentation. Deadline to apply is June 15th.
For more information and to apply to the grant program visit https://malamakauai.org/feed-farmer-grants/.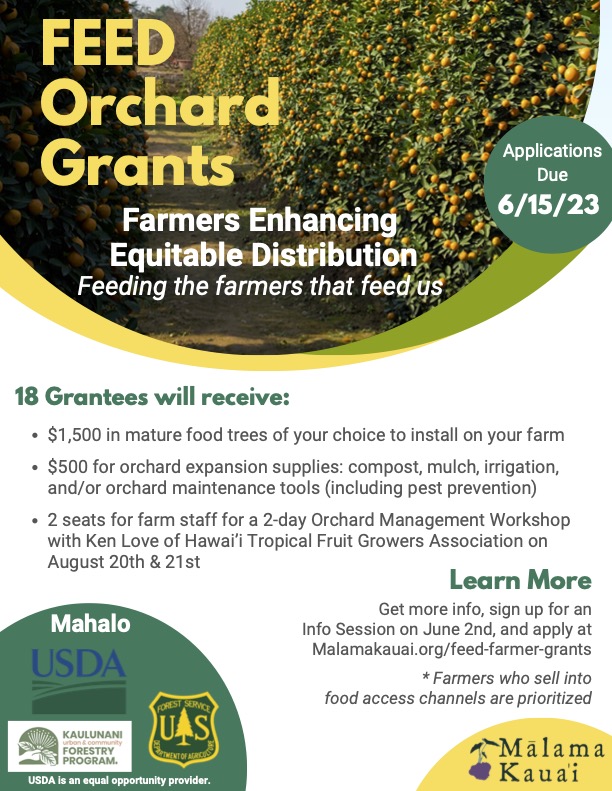 Last modified: May 30, 2023