Story – Kauai Planning and Action Alliance


We recently talked with Alice Luck of Kauai Planning and Action Alliance (KPAA) who shared more about KPAA and the work they are doing in the community.
Can you tell us about the vision and mission of your organization?
The mission of Kauai Planning and Action Alliance (KPAA) is to bring together diverse organizations for collaborative planning and action to achieve targeted community goals.  We carry out our mission by fostering creative solutions and aligning efforts among those who shape the destiny of our island:
Providing a safe and open forum for dialogue.
Setting priorities based on current data and indicators.
Collecting and publishing indicators data on trends, progress, and outcomes related to our priorities.
Targeting specific actions and being committed continuous improvement to reach them
KPAA's primary focus is education and youth development, with our flagship initiative Keiki to Career Kauai (K2C). K2C is a collaboration of 42 community partners from across the island representing a diverse group of stakeholders. K2C's vision is for every child to be healthy, competent, confident and caring. K2C's partners work together to improve our young people's education opportunities, strengthen families, and provide support for our youth from birth to career. Our core belief is that by aligning and leveraging island resources, we will accomplish so much more than any organization can do alone.
K2C's work is currently focused in two areas – early literacy and youth resilience. We work with Kekaha Elementary School and the community to bring our Reading Buddies into the school and organize other events and activities that promote reading at home, in school, and in the community. We also convene a group of 30 public and private agencies each month, called the Kauai Resilience Project (KRP), to work collaboratively to increase protective factors in our youth and ensure that all kids have the developmental assets and developmental relationships that are critical to positive youth development and building resilience. The goal of the KRP is to reduce the rate of youth suicide attempts on Kauai among high school students, currently at 9%, by 50% in five years.
How have things changed due to COVID-19? 
Covid-19 has presented profound challenges to our community, including those that threaten mental health and emotional well-being. The Kauai Resilience Project's work is critical, perhaps now more than ever, as families are under increased stress due to the pandemic and the day to day lives of our youth have been disrupted. Strong relationships between adults and youth are even more critical now to ensure that our youth all have at least one adult that helps them feel safe and supported through this trying time.
Are there increased services or supports that your organization is providing to help the community due to COVID-19?
During the summer, K2C produced a series of parent handouts to inform parents about critical child health and mental health topics relevant to Covid. These can be accessed on our website at https://keikitocareer.org/call-to-action/kauai-resilience/resilience-resources/
We were fortunate to receive Kupaa Kauai CARES Act funding as well. This funding will be going to various projects in the community, all around the goals of suicide prevention and mental health stigma reduction. We know that the stigma surrounding mental health is still strong, and we want to encourage all those in need of help or just someone to talk to, to reach out and access the National Suicide Prevention hotline, the Crisis Line, or professional counseling through their healthcare provider.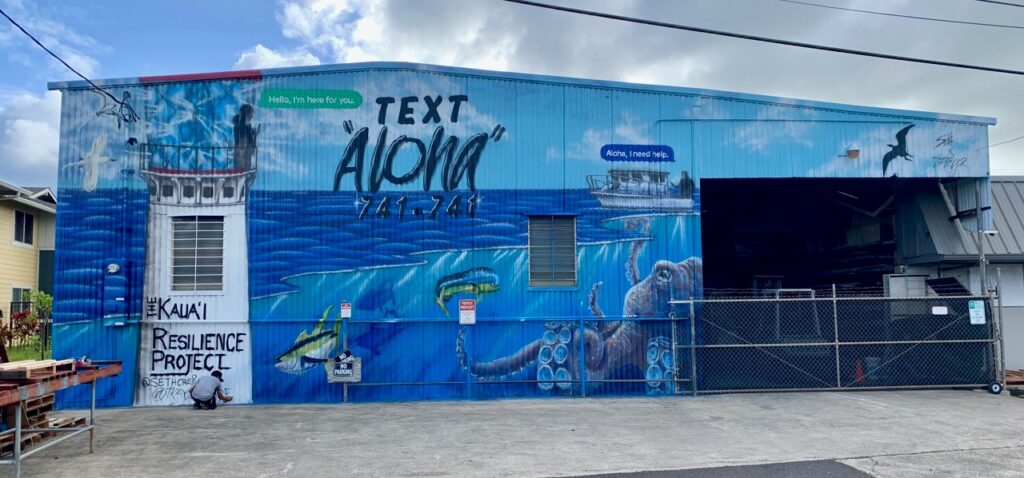 Is there anything you'd like the community to know about your organization?
Our Kauai Resilience Project Action Plan has four pillars: 1) increase protective factors in our youth through our Kauai's Kids are Your Kids public education campaign and Ten Tips to Building Youth Resilience; 2) increase the after school opportunities available for youth, removing barriers to access such as fees and transportation; 3) increase the number of safe spaces in the community for youth; and 4) integrate social-emotional or life skills curriculum into the schools on Kauai. Our message to the community is that we all have a role to play in supporting youth resilience, whether or not you are a parent yourself. We can all do things to support our youth and show that we value them. For more, visit: https://keikitocareer.org/call-to-action/kauai-resilience/kauais-kids-are-your-kids/
Can you tell us more about the upcoming social media contest?
You Got This Kauai! Is a monthly youth contest that we are launching. Each month will be a new theme and a new activity for youth to participate in. The goal of the contest is to motivate students ages 13+ to get off their devices and engage in a positive, healthy activity. They will also learn something new about Kauai along the way, as per the instructions on our contest website. There will be a grand prize valued at $250, sponsored by Hawaii Pacific Health. The first month's runners up prizes will be sponsored by Déjà Vu surf. The first month's contest, which will run through the end of October, will be a wave ride contest, and the entries will be judged by three local renowned riders. For more, stay tuned into our Kauai Resilience Project Facebook page. We will also be announcing the contest through the DOE.